You're officially a Quakes Devotion Scarf recipient! Explain what it means to you to get this honor?
When Kat Soltero from the Quakes told me I was chosen as one of the Devotion Scarf recipients, I was speechless and that hardly every happens! It's especially wonderful to be honored by an organization like the Quakes that shares so many of the traits and values I personally share like loyalty, commitment to its community, passion for life and positivity, just to name a few. 
Talk to us about your Quakes fandom. How long have you been cheering on the black & blue? What is your most memorable moment?
Well, my time with the Quakes goes way back to the beginning. From 1974 – 1981, my parents, Rich & Jill Brauss were statisticians for the Quakes. My dad was deeply involved in the soccer movement and coached for the U.S. Adidas National Camps for the Quakes, he was the camp director in 1977. At that time, I was also playing PAL Soccer and looked up to these players like they were Gods, Soccer Gods! Our family also knew Krazy George before he took cheerleading to another level. I must confess that I really liked the Red, Black & White uniforms so I was thrilled to see the thoughtful nod to the past in the stadium. My most memorable moment was getting to meet my first Quakes player crush, Scottish Goalie, Mike Hewitt…I vividly remember his name and that moment to this day!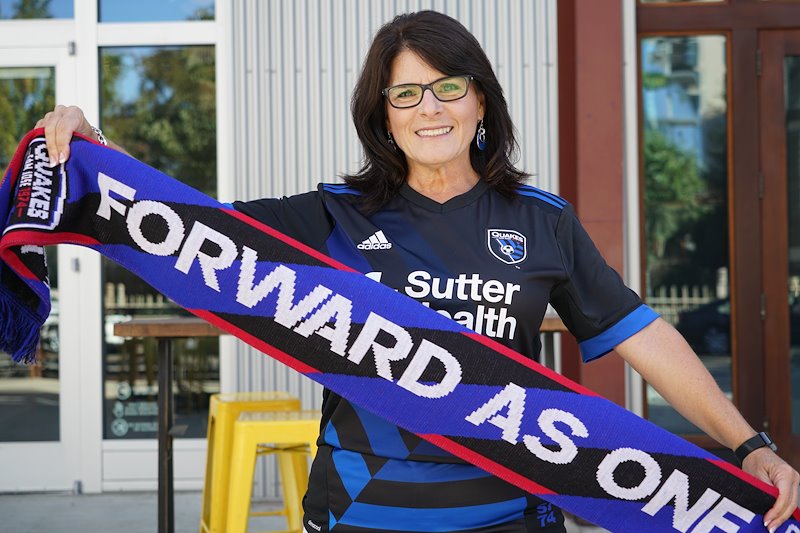 Who is your favorite Quakes player and why? 
As for a current favorite, I can't choose just one. Having personally worked on the partnership for my former employer (now retired), Valley Health Plan (County of SC) and the Quakes, I have seen how the players serve as positive role models in our community. They take time out of their busy lives to engage with the youth and their fan base. This is so admirable and inspiring! 
What would be your message to Quakes fans out there? 
To all the faithful Quakes fans, your dedication and love for this team is the reason they are still in San Jose playing where their humble journey began! One of my favorite games to go to is Portuguese Heritage Night, we gather a bunch of my husband's family for a night of culture and soccer. Every time I bring people out to a game, they always say, "There's such a cool and positive vibe here." and then it follows with, "Let's do this again!" P.S., I love the bar area! 
A heartfelt thank you to the Quakes for this great honor, I am deeply moved! GO QUAKES!!